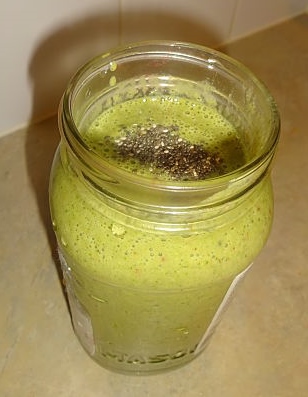 So for this blog I decided to tweak things up a bit and switch up from the typical educational content to something more practical. I chose  to talk about my most recent favorite  smoothie that I have been digging and loving so much. Its healthy, balanced with fiber and contains great nutrients. When I search online for recipes I, personally am annoyed with all of the contents available within a recipe before reaching at the bottom of the screen. I find myself rummaging through the page for a good several minutes before arriving at the most important part of the recipe. It seems in today's time, a recipe blog  has gotten way too complicated, bloggers disclosing way too much content, outlining minerals & vitamins content etc. which can be great for some people but I'm usually an in-out type of gal.
In this blog, I decided to cut to the chase and just publish my Green Holy Goodness Smoothie. Its tasty, not overpoweringly fruity, the taste from the Shake powder is barely noticed and overall easy to consume. Great for breakfast, in between meals and even a light dinner.
Ingredients:
1. 1 Handful of spinach of your choice – baby or grown leaves
2. 1 Handful of pineapple chunks – frozen
3. 1  Handful of strawberries frozen
4. 1 c filtered water (Shaklee GetClean filter) 
5. 2 servings of Shaklee Life Shake Mix – Vanilla
6. 2 tablespoons of Ground flax meal (any brand name works)
7.  Chia seeds for decoration
Utensils: 
Blender to puree smoothie

1 medium size mason jar (you could use a 550ml recycled tomato sauce jar)

Directions:
1. Place spinach in blender first
2. Place fruits  and water in blender
3. Adjust thickness by adding more water – depending on your preference
4.  Sprinkle some chia seeds (optional)
4. Enjoy one sip at a time 
If you've tried it out, please let me know what you think of it!
Cheers,
Coach Hanan Yusuf