Cinnamon Streusel Coffee Cake (With Minimal Butter!)
| Category: Healthy Nutrition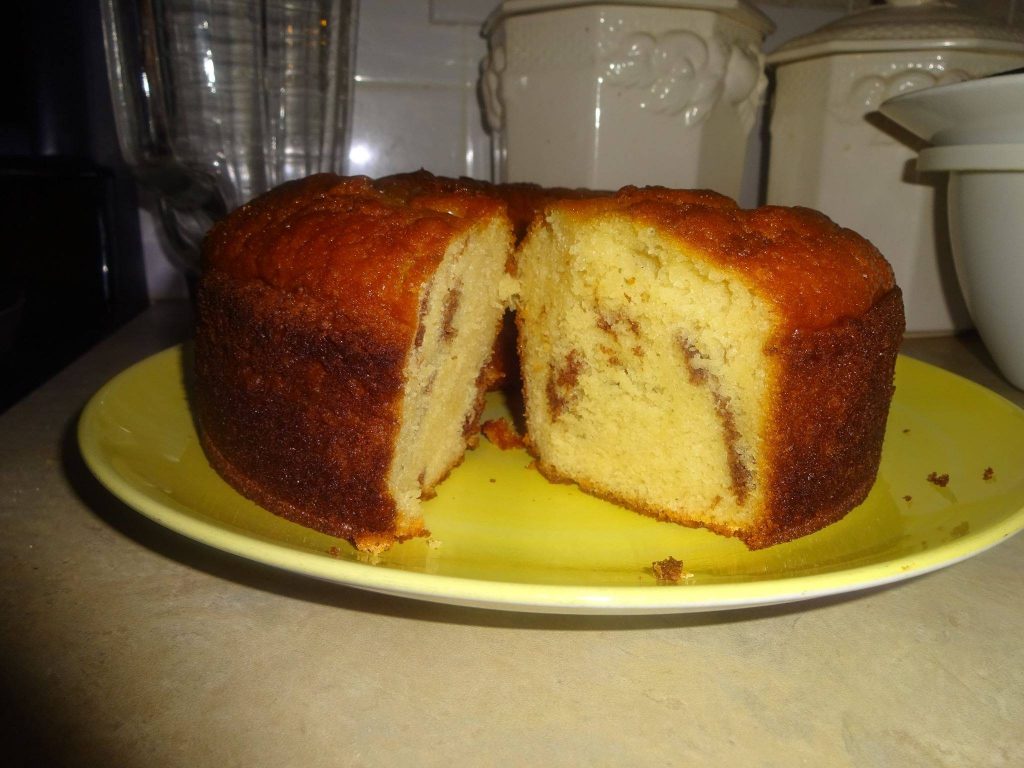 Hello beautiful world!
Thank you for stopping by! Embarking on a healthy journey for me means being alert about my health, educating myself about the ingredients, food labels, how the good manufacturing businesses operate and tying the pieces together to achieving my optimal health goals. In doing so I found myself having to always compromise and I personally don't like that. Anyone who is prioritizing their health without wanting to compromise some "unhealthy food" would understand how complex it can get in working to balance what the heart craves and what the brain commands for our longevity. I found my  heart yearns for sweetness but the brain tends to work off of logic and wanting for longevity.
When it comes to baking in the kitchen, anyone who is able to work out the two together is truly a warrior in my sight. As for myself, I find manipulating certain ingredients aided me in making this scrumptious cake! Without further due lets dive in!
This week I decided to make a delicious, low on butter Coffee Cake and it turned out a double-thumbs up! My biggest critic ever was impressed and was in competition with me on who could eat the most of this amazing cake. Plus, if you are having guests coming over, how amazing would it be to prep this for them all while the house smells like a fresh bakery.  The best features of this cake is how dense, moist and low on butter it is. A lot of the Streusel cake recipes circling on the internet unfortunately had butter in them and I am trying to maintain my health and figure so many were not even a thought. Butter neither a ton of sugar was not going to come in the middle of that. Until I bumped into one amazing recipe, appeared realistic with the portions and I tweaked it to cater my own needs which all in all worked out!
Serves: 16                                                                                Yields: 1 cake
INGREDIENTS
Cake batter: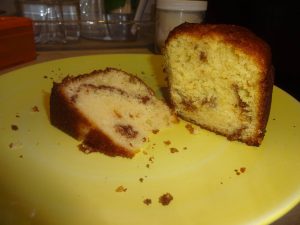 1 (18 1/4 ounce) package yellow (or white) cake mix
1 (4 ounce) package vanilla instant pudding mix
1 1⁄3 cups filtered water
1⁄3 cup oil
4 eggs
1.5 tablespoons of Flax Meal
For filling:
1⁄2 cup flour
1⁄2 cup brown sugar
1 1⁄2 teaspoons cinnamon
1⁄4 cup soft butter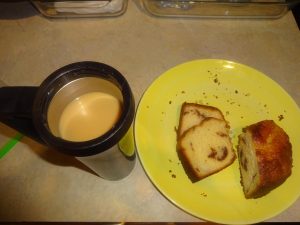 DIRECTIONS
Combine all ingredients for cake and mix well.
Grease a angel food cake pan and pour half of cake batter into pan.
Combine all filling ingredients and sprinkle half evenly over batter. This step may take some time to mix and mingle them together. You want to make sure you have the filling somewhat loose when you are spreading all over the batter. If you see the colored patches on the picture above. The way you sprinkle it is the filling will appear on the individual slices.
Top with remaining batter, then sprinkle the rest of the filling mixture over the top of the cake.
Bake at 375° for 45 to 50 minutes or until done. Usually, my nose leads me to the oven at this step 🙂
Cool on wire rack for 15 minutes, then turn over onto a plate and remove from the pan.
Cool cake completely.
Slice up cake into your own favorite pieces. Enjoy one slice at a time.
There you have it folks. Thank you all for your support. Let me know in the comments section below what you thought about this cake. I hope you find happiness and joy from this cake and don't forget your cup or joe or tea. I incorporated my slice with a cup of an unsweetened, ginger milk tea. One love!
Stay blessed,happy and healthy!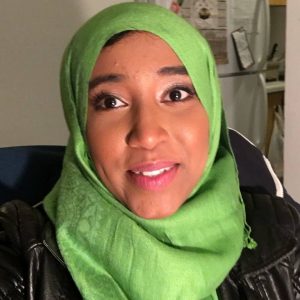 Coach Hanan Yusuf
Integrated Health,Wellness & Happiness Coach
Enjoy empowering lives and a firm believer in Hope
My store: www.Hananshealthshop.com